3 years ago, I met up with an app developer at a local startup meet. He had a painful story of losing $25000 building an app whose ROI was less than one dollar.
He tried to understand why his product failed when:
the end-users loved the demo
they loved using the app
they appreciated the UX and UI too
the target audience appreciated the idea
they thought it was useful as well
Yet, the product failed.
Devastated, he narrated the story to the crowd, seeking for answers in their eyes.
A sassy marketing expert came forward and asked, -"Did you refer to your market research material while you designed it's features?".
After a few seconds of embarrassing silence, the app developer asked – "What is market research?"!
So, this passionate startup owner went straight into building the app ASSUMING all of the features himself and he ran into a debt of $25000 that he had invested out of his pocket.
Lesson? It was an app loved by many, but utterly un-needed.
Learning about the user journey helps you shape your product AND your marketing. You sell well when you know what you're building, for whom and why you're building it.
You see? The first step to a successful product launch is to create a product your audience NEEDS and then market around those needs to attract qualified leads.
How to Qualify Leads and Convert Better
To connect with your readers on an emotional level, you should know them inside out.
How do you do that?
By asking questions like:
What makes your prospects happy?
What makes them cringe?
What keeps them worried?
What gets them excited?
What are their priorities?
What are their apprehensions and expectations?
What outcomes do they dream about all the time?
What makes them feel threatened?
What are their biggest challenges right now?
What makes them nervous?
Understanding the underlying problems and creating a solution around these problems gives you a solid product that people actually need unlike the one this passionate startup owner had created.
With a solid product, built on people's real demands, you can set-base to market.
You now have full permission to go tout about how YOU know to fill that aching gap your audience couldn't
You don't qualify leads, you qualify your marketing content. Quality leads begin to flow when they can empathize with content that brings clarity.
Tip: Read more about writing with clarity and establishing authority.
Brain Chemistry and Empathetic Copywriting
Your readers dig details.
If it's a physical product, they want to know exactly what it's made of.
If it's a service, they want to know what they get.
If it's a solution, they want to know how it works.
Once they know the details, they're ten times more likely to buy from you.
Now, why does this work?
The ever-curious human mind stops releasing the stress hormone, cortisol, the moment it understands that you are in a familiar environment.
By giving out the exact details of working with you, you're creating a safe, future environment for the reader by telling the reader's brain that:
You're in a safe, familiar environment
You're with someone who knows how you feel and empathizes with you
You can stop being in the fight-or-flight mode
Marketing is about understanding your audience, empathizing with them and inviting them to know more about your offer – nothing more, nothing less.
You're here to talk about how you can free your audience from that big fat suffering that's been hindering their growth and transformation.
How to keep your audience thinking about what you said
The reason you remember the story from the movie you watched when you were 10 but not the history lesson is because you mirrored and experienced the emotions played in the movie.
How you can use this technique to win your audience over:
Pinpoint your audience's exact pain points and address that in your copy

Identify with their fears and anxieties and acknowledge that in your copy

Promise the desired outcome (and deliver it in your product please)
What not to do in your copy
Okay, if you don't keep the conversation going between you and your reader, the connection dies.
So, make your reader feel heard, understood and important.
This is how you roll:
It is when you DON'T make them feel zoned out – they start relating to you.

It is when you DON'T make them feel like a faceless speck from the masses – they start valuing you.

It is when you make them feel understood – the chemistry of liking strikes.
So it all boils down to understanding your reader. Inside out.
When you synthesize your audience's thoughts that they find difficult to express, you win their trust.
When your audience feel understood, they take the first step toward trusting you and believing in what you have to say. This tells them that you know where they're coming from – a point of stress and struggle – a point that YOU have surpassed – a point in place they want to be
How to develop a memorable voice and brand personality through copywriting
Now that you know what to say, let's focus on how you say it.
Your voice is nothing but your thought process – how you identify what to say and when.
Your tone is the language and mood and feelings you use to convey the message.
I've always loved Mailchimp copy. And you know what makes readers love Mailchimp? The tone. It's easy, flowy and minimalistic. Notice the adjectives I used to describe the tone? That's how you develop a personality around your brand.
Look at this example here.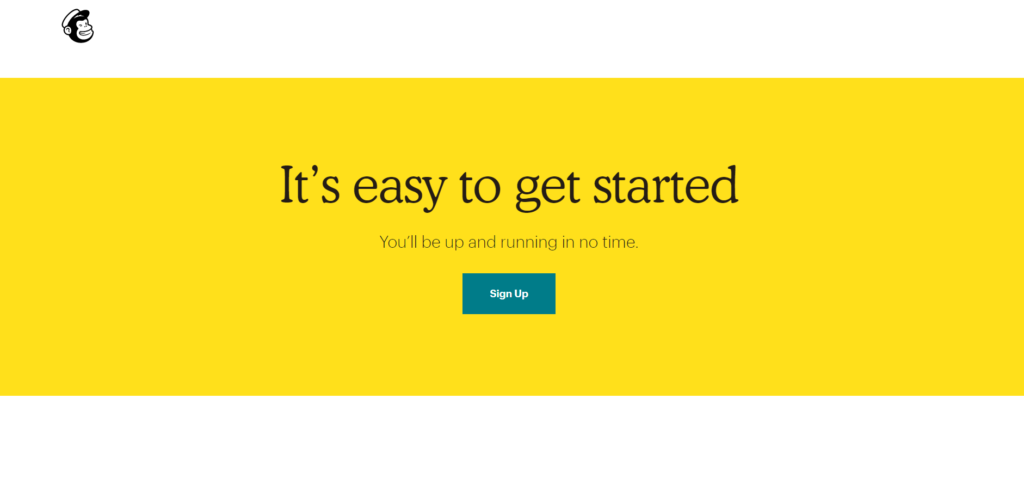 The above form makes it want to sign up and see how easy it can actually be to get started with a Mailchimp account. You too, right?
That's the magic of having a distinct voice and tone. People actually listen to you speak.
You too can develop a tone. Let's run through these examples quickly to find out how.
1. People are addicted to cell phones.
2. Smart screen toxicity is harming youngsters.
What sounds more vivid and powerful to you? 1 or 2?
The first statement is normal that uses everyday words.
But the second one? It's exactly pointing out who it's harming the most – the youngsters. What is harming? – Smart Screen Toxicity. It's done in an unconventional manner – yet without using any jargons that a layman wouldn't understand. That's how you develop a voice.
How not to sound in your copy
Let's get straight to the point.
Don't sound like you and your competitor are cut from the same cloth

Be different but never be inappropriate

Think aloud, but don't harm

Don't force/coax/pressurize/confuse your readers

Don't limit user personas to a set of demographic data but also care about your audience's tastes, traits, and behavior in as much.

Don't talk. Make a statement.
Okay, these are the 6 big tips to follow every time you start with a copywriting project.
To practice, today you go back and pick a page of copy.
Rewrite the page by applying the tips and techniques you read just now and tell me how you feel about it at the end of the exercise 🙂